Radardroid Lite International
3.56
Speed Camera App – Avoid Getting Speeding Tickets Anywhere in the World
If you want to avoid getting speeding tickets then this speed camera app can be just the app you need. Radardroid Lite International is a useful app which can help you in knowing about speed cameras located on your route, allowing you to lower your car's speed. It enables you to know when you will be passing through a speed trap and gives you the chance to lower your speed accordingly. It has databases of speed camera locations in various countries of the world. So, no matter where in the world you are, you can ensure that you never get a speed ticket ever again. You can also add personal warnings of your own if there are any new speed cameras that you detect on your route.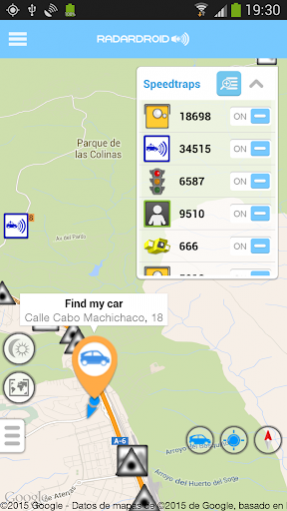 Radardroid Lite International has an intuitive user interface and a user-friendly design and layout. These features ensure that this speed camera app is very easy to use for just about anyone. You don't need any expert knowledge to use it. However, this app does require you to provide a number of permissions to it. These permissions are necessary for the operation of the app. You won't even be able to get to the home screen without providing the required permissions. Among these permissions, the most important one is the ability to draw over other apps. Also, this app is going to need your device's GPS to provide the necessary information regarding speed traps. So, you need to enable the GPS of your phone at all times.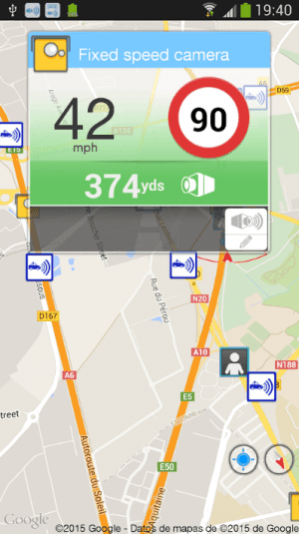 This speed camera app shows you a map of the surrounding area on its home screen. You can see the speed tracks that might lie in your route on the top-right corner of the screen. Whenever you are approaching a speed trap, you will receive an audio warning about the upcoming speed trap. Radardroid is capable of warning you against both mobile as well as fixed speed cameras. You can hear the audio warning even if you are busy doing something else on your phone. The app will continue to work in the background and give out warnings. Visual warnings are also offered by Radardroid but they can only be seen if you are running the app. You will need to get the pro version of the app to see the visual warnings when the app isn't running.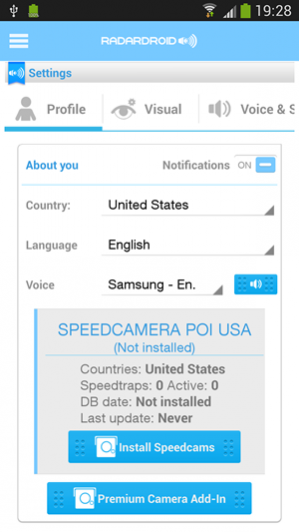 Radardroid Lite International provides databases of various countries all over the world. However, you need to first download them to your phone before you can start using them. You will need an internet connection in order to download these databases. While these databases are very comprehensive and contain details of most of the speed traps, they can sometimes miss newly set up speed cameras. This speed camera app provides you the chance to add any speed camera that you have spotted on your route. These speed cameras will be added as personal warnings and will sound whenever you approach them.
Features:
Intuitive user interface
User-friendly design and layout
Get warnings about speed cameras
Audible and visual warnings on offer
Find all the speed traps marked on a map
Speed camera databases from various countries
Both Night and Day mode available
Option available for creating personal warnings
Shows the distance to the speed camera
Displays the maximum speed allowed
Informs you about the speed of your car
Conclusion:
Radardroid Lite International is an app which is designed for people who want to avoid getting speeding tickets. It provides them the opportunity to get audible and visual warnings about speed cameras before they reach them, giving them enough time to lower the speed of their car. It is a great speed camera app and you should definitely have it on your phone.
---
Add a review
Tell us your experience with
Radardroid Lite International
3.56
RELATED PROGRAMS
Our Recommendations
---
---
---
---